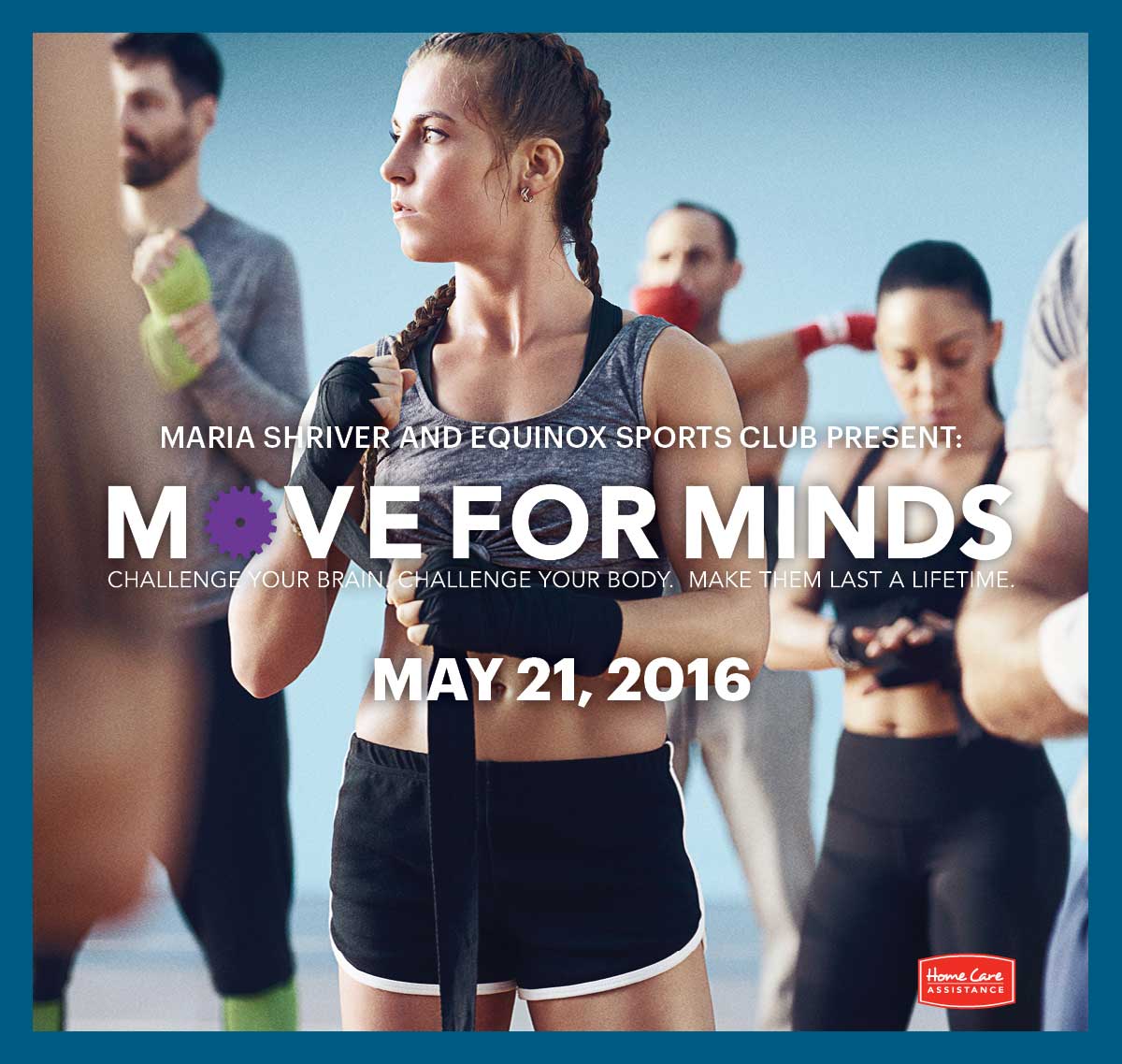 The Cognitive Therapeutics Method Team is excited to support Maria Shriver's Move for Minds™ event, a first-of-its-kind experience that was created to raise awareness around women's brain health and research. As advocates for brain health, we are proud to participate in Maria Shriver's movement and hope that you will join us by registering to participate or donating today.
Move for Minds, hosted by Maria Shriver in partnership with Equinox Sports Clubs, is a unique event that encourages participants to engage in physical fitness challenges, including boxing, meditation or yoga. Participants will then be able to enter an educational marketplace featuring experts in the fields of brain research, fitness, nutrition, stress, sleep and caregiving. Home Care Assistance, the creator of the Cognitive Therapeutics Method, is proud to be the exclusive Caregiving Partner for the Move for Minds event.
Maria Shriver initiated the Move for Minds event because she is passionate about women's brain health, having been a dedicated advocate for women, health and Alzheimer's research for over a decade. She is the founder of A Woman's Nation, a television series that has released a number of extensive reports about women in America, including The Shriver Report: A Woman's Nation Takes on Alzheimer's. We are honored to join Maria Shriver at the helm of the women's brain health movement.
The Move for Minds event will take place on Saturday, May 21st from 2pm to 5pm at Equinox Sports Clubs in six cities: New York, Los Angeles, Orange County, San Francisco, Boston and Washington, D.C. Home Care Assistance representatives will be present at all locations where they will share expert advice on brain health, caring for Alzheimer's disease and support for both family caregivers and the individuals affected by dementia. Representatives will also be able to offer valuable information about the Cognitive Therapeutics Method™, an in-home activities program designed to promote long-term brain health.
To learn more about the event, register to participate or to donate today, visit the Home Care Assistance page at www.crowdrise.com/moveforminds.
HCA Dev | No comments