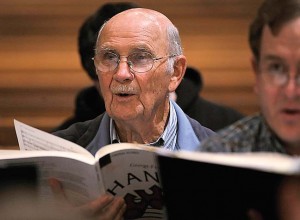 Many experience that a familiar tune can jog an old memory, which is why music is often used as a type of therapy for individuals with Alzheimer's disease or another form of dementia. A recent study by the University of Helsinki in Finland looked more in-depth at the benefits of music and found that singing – as opposed to simply listening to music – can boost the brain function of individuals in the early stages of dementia.
The study, published in the Journal of Alzheimer's Disease, split 89 people with mild to moderate dementia and their caregivers into three separate groups: one group underwent a music intervention program involving singing, another group underwent an intervention involving listening to familiar songs, and the last group received only standard care with their caregiver and no music intervention. All three of the programs ran for ten weeks. To see who benefited the most from each type of intervention, the researchers evaluated the cause of dementia, the impact of the dementia's severity, the individual's age, care situation and previous musical hobbies.
They found that singing was the most beneficial for working memory, which is used to retain new information, executive function, which includes reasoning and judgment, and orientation. They also found that it worked best for individuals with mild dementia who were eighty years old or younger. Listening to familiar songs was only associated with cognitive benefits in individuals with advanced dementia, while both singing and listening to music together were the most effective at alleviating depression in participants with mild dementia.
Interestingly, the participants' previous musical hobbies had no effect on how well the music intervention programs worked, so people from a variety of musical backgrounds could benefit from the power of music, making it widely applicable. The research team hopes that these results will support the notion that musical activities can be easily used in Alzheimer's and dementia care as well as memory care facilities. Singing has proven to be a very engaging way for individuals in the early stages of Alzheimer's or dementia to maintain their memory and other important cognitive functions.
Along with exercise, a balanced diet, and social activities, singing can be a fun way to boost your mood and strengthen your memory. Whether you are in the shower, in the car or at home, sing your favorite songs — involve kids or grandkids and make it an event! We recommend karaoke, which is a great way to exercise your vocal chords and your brain while having fun. Happy singing!
Sources
http://news.health.com/2015/12/18/singing-hits-a-high-note-for-folks-with-early-dementia/
http://www.j-alz.com/content/singing-beneficial-memory-and-mood-especially-early-dementia
Katarina Livaskani | No comments