Long-term brain health is influenced by more than one factor; everything from a healthy diet to the outside environment can help promote a healthy mind. These factors are also thought to potentially delay the progression of cognitive decline, which is why Jean Makesh is using this concept to reenvision memory care homes for older adults living with Alzheimer's disease.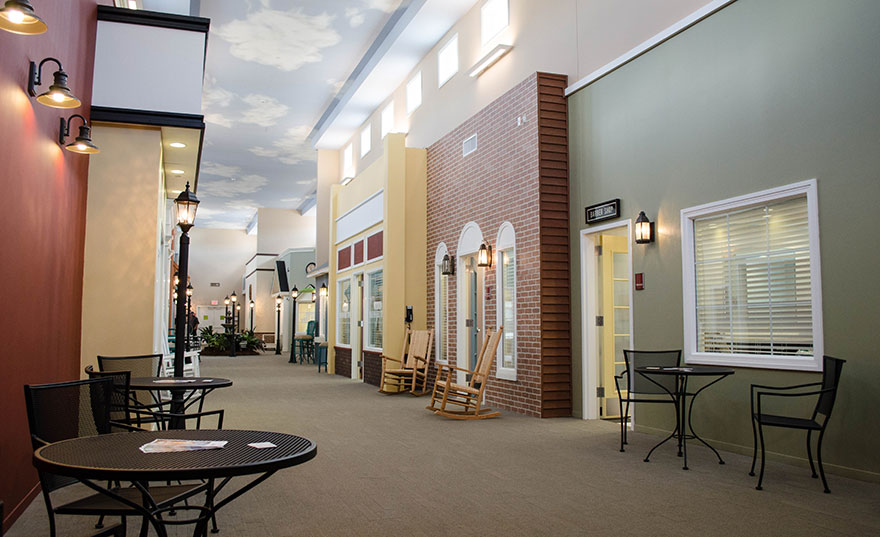 Typically, memory care centers often feel like a hospital or hotel and fail to convey the hominess that can potentially alleviate anxiety. Jean Makesh is changing that by building care communities that are designed to resemble the warm environment of a familiar neighborhood from the 1930s and '40s.
Each facility contains indoor courtyards, streets and faux golf courses, along with venues such as a movie theatre, fitness center, spa, library and 24-hour bistro. Although everything is indoors to protect residents from wandering, the environment does not hold them back. Residents can enjoy sitting on their own front porch, which encourages socializing between neighbors.
Fiberoptic ceilings mimic the sunrise and sunset, and display twinkling stars at night, to aid residents with their wake and sleep schedules. At mealtimes, appetite-boosting aromas are dispersed throughout the facility. And if a resident were to become agitated, the anxiety-relieving aroma of frankincense (derived from the gummy sap from Boswellia and Commiphora trees) is introduced into their room.
As a former occupational therapist in the skilled nursing industry, Makesh is well-versed in helping individuals excel at basic activities of daily living. He has meticulously designed every aspect of the facilities to allow people with Alzheimer's or dementia to function at their maximum potential, even going so far as to offer classes on daily living skills. Some clients have even learned to bathe and dress themselves again.
So far, there are three Lantern centers in Ohio, and each one reflects the community that surrounds it. Although this facility may not cure dementia, it provides a safe space for individuals to thrive, promoting independence, well-being and happiness. Makesh does have plans to expand in the future, and until then, we look forward to hearing more about the success of the residents in their day-to-day lives.
Sources
http://seniorplanet.org/an-innovation-in-memory-care-therapy-through-design/
HCA Dev | No comments