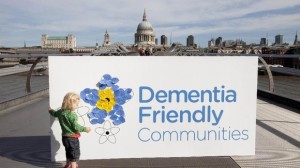 In Watertown, Wis., small purple angels adorn the windows of nine local businesses. The markers signify that the businesses' employees have been trained in how to recognize and assist customers with dementia.
Baristas working at the Connection Cafe, for example, will encourage customers suffering from memory loss to point to the cup size they would like for their coffee. At the State Bank of Reeseville, employees have been trained to spot signs that customers have been victims of a scam.
These efforts to make local businesses more dementia-friendly have been part of a larger initiative to educate Watertown's 24,000 residents about dementia and to help keep those suffering from the condition more active and engaged in the community.
Although the movement to make communities more dementia-friendly is not a new concept in Europe, it is only now beginning to take effect in the United States and Canada. In Minnesota, the AARP Minnesota has already enlisted over 50 groups in the ACT on Alzheimer's collaboration. The effort is designed to encourage communities to prepare for increasing numbers of residents with dementia.
Executive director of Alzheimer's Speaks, Lori La Bey, who was responsible for helping to launch the dementia awareness movement in Watertown, calls the Watertown initiative "phenomenal." Bey hopes that as more communities see the need to implement dementia-awareness efforts, the movement will continue to expand across the nation so that people with dementia will be able to continue to play an active part in society.
Source: http://www.aarp.org/health/conditions-treatments/info-01-2014/dementia-friendly-neighborhood.html
HCA Dev | 2 comments